Driver Possessing International Driver License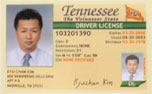 a foreigner with a foreign issued driver license can drive legally in Korea with an international driver license for 1 year. But, the foreign license must not expire during that period.
an international driver license is for a foreigner not residing in Korea (visitor). Thus, foreigners registered at the Korea Immigration Service are strongly recommended to convert the existing foreign license to a Korean driver license because they are legal residents of Korea.
Driver License Testing for Foreigners
Bring your foreign driver license.
The written test can be taken in English, Chinese, Japanese, German and French. The test is a multiple choice test with 20 problems.
Test preparation materials in English and Chinese can be purchased at driver license testing agencies.
For information about driver license testing in Japanese, German and French, please be advised with the website